New & Delicious 100% Vegan Menu Launches at Orlando Mission Kitchen
Whether you are vegan or not, I have to say , I am digging the new and totally revamped menu at Orlando Mission Kitchen.
Orlando Mission Kitchen is a Mexican food truck founded by owner Herbert Tinjaca that opened just a few months ago this year. They have a permanent location for guests to sit indoors in Rio Grande Park - 1322 25th St, Orlando, Florida.

Those months ago, the menu was vegan friendly and included both vegan and meat options.
100% Vegan Menu
The new menu, created and designed by Chef Sol, is now 100% vegan. In my opinion, I found the menu to be innovative and tasty... that's coming from a dedicated meat lover.
Chef Sol
Chef Sol is Brazilian and Cuban, learning from his Cuban grandfather on incredible flavors and textures. He has worked as a Chef in Los Angeles for many celebrities, as well as Miami, and heard about OMK redoing their menu, and decided to take on the project.
Chef Sol is also into healthy living and eating whole some , plant based food, without compromising flavor. His goal was not only to provide great food to vegans, but also for non vegans to open their eyes to the possibilities of vegan food, and how creative and delicious vegan food can be.
Preview Tasting Menu
Check out some of the items you can expect on the new menu! These dishes are preview items, with more being added , such as cauliflower and mushroom tacos to name a few.
The menu items below were from the private tasting menu for the Chef and Owner to get feedback on their concept. Menu items are subject to change.
1st Appetizer : Platano Relleno
Sweet Plantains,Spiced Tempeh Chorizo, and Jalapeño Cheese Sauce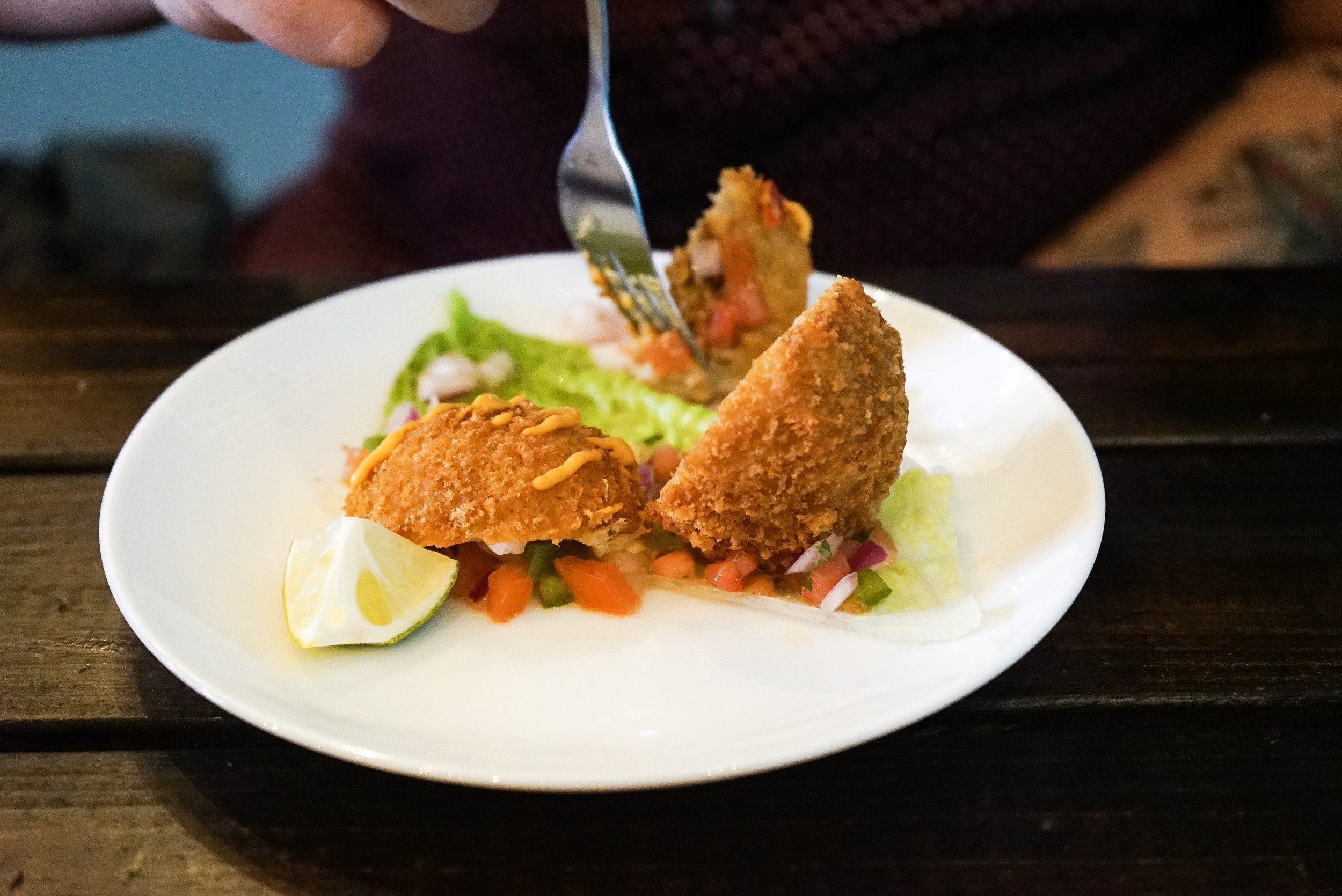 2nd Appetizer : Tostone Slider
Pulled Jackfruit, House-Made Mexican Bourbon Barbecue Sauce,Sliced Avocado and Cashew SourCream
Main : Vegan Tacos
Crispy Tofu "Del Mar" Taco
Sesame Seed, Coriander, Cumin, And Fresh Dill-Cabbage Slaw
____________
Crispy Aubergine Taco
Sofrito-Marinara Sauce,Cashew Sour Cream, AndPico De Gallo
____________
Jackfruit Taco
Pulled Jackfruit, House-Made Mexican Bourbon Barbecue Sauce,And Fresh Pineapple-Jalapeño Salsa
Vegan Dessert- Avocado Ice Cream
Avocado-Coconut Ice Cream, Cinnamon Dusted Tortilla Wafer
The menu will also keep their original menu item Guacamole French Fries, one of my favorite items (picture below).
Next Private Tasting Event
Join Orlando Mission Kitchen and Chef Sol on the next Private Tasting Event Part 2!
Date: Saturday July 14th
Time: 7PM - 9PM
Where: 1322 25th Street Orlando,
Purchase Tickets Here: Link
Only 24 Tickets Will Be Sold