Lion's Pride Soccer Pub & Grill
If you often find yourself at a loss for a venue to watch your favorite sports games that incorporates unique drinks, savory food and an upscale sports bar atmosphere, then I'm here to tell you Lion's Pride in Downtown Orlando is here to provide the perfect experience.
Situated across from Hamburger Mary's on Church Street, Lion's Pride is what most would consider a sports bar- but what I would christen an Orlando City Soccer Club den with a classy feel that makes you feel like you're watching your favorite team in premium stadium seats.
Lion's Pride doesn't serve your regular bar food- in fact, the brilliant minds behind their menu have crafted selections for whatever your taste buds require on game day. From the usual suspects of hamburgers, tacos and wings to main platters that make your mouth water like their Blue Cheese Angus Filet Mignon or the Shrimp and Lobster Risotto.
Appetizers
No game day is complete without your appetizers, and the starters here will get you revved up for the rest of the meal, and of course the rest of the game. I had their Peppered Ahi Tuna and Smoked Brisket tacos as the precursor to my evening, and I have to tell you they may have been the highlights of my entire meal. Ahi tuna is one of those meals that I am inclined to order whenever I see it on a menu, and this particular serving was plated with an avocado relish and cilantro lime slaw that really made the raw tuna flavor pop. The tuna was fresh, the avocado used for the relish was clearly in the perfect stages of ripeness.
The brisket tacos were small and on flour tortillas, which are not usually my preference (I'm a corn girl), but the slow-cooked beef brisket was juicy and pulled so smoothly, and the queso blanco and chipotle aioli complemented the bold taste of the meat to really make a delicious, yet simple, taco.
Main Entrees
For the main entrees, we got to try out the Shrimp and Lobster Risotto and the Blue Cheese filet. The shrimp and lobster risotto was creamy and thick, and the parmesan cheese melted into the risotto to perfect the texture of this plate, which is incredibly important with risotto- not mushy, but not dry rice. The cheese and seafood flavors were only enriched by the Lion's Pride Signature Hand Muddle Marquita, a refreshing margarita.
I was genuinely on the fence as the Blue Cheese filet made its way to our table. I have heart eyes for steak, but my feelings towards blue cheese have always been more towards the hesitant side. I found this steak to be delectable though, as my personal preference was to taste less of the blue cheese, and I didn't find that flavor overwhelming. My steak was cooked medium-rare, which means it was tender and juicy and I promise you that plate was wiped clean.
Sweet Ending
Not one, but two desserts to top off the evening- chocolate mousse and the Romeo and Juliet. The chocolate mousse was rich and creamy, topped with whipped cream and we paired it with their whiskey based Sangria. The Romeo and Juliet is a fantastic dessert with homage to Latin roots- a guava cheese turnover, perfectly flaky pastry and paired with a passion fruit pureed champagne. More than content with my meal, I can assure you that you'll be filled to the brim with delight (and food) when dining here.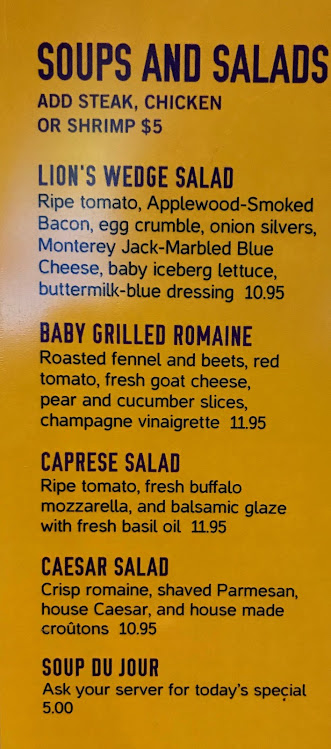 The Space
Lion's Pride is sure to win you over on food alone, but in case you need any more convincing, the setting is incomparable to any other sports bars in the area. The first floor houses an extensive Orlando City gift shop, decked in purple, with every item you could possibly want to display that Orlando pride. There's a few tables and bar seating here, and past that is a wider arrangement with large display TVs and long tables for larger parties.
The second floor is a beautiful and elegant venue for private parties, with its own bar and set of TVs so you can host your own game viewing party or celebrate any special occasion with friends and family. The staff is eager and happy to make sure you have the best experience while at Lion's Pride, proudly stating their slogan #ThisIsOurPlace- meaning a place for everyone to gather, share and enjoy something we can all get behind- tasty food, refreshing drinks and the exhilaration of watching your favorite team come out on top.
And in case you really need a reason to make it out to Lion's Pride, the 2018 FIFA World Cup is drawing near!
Special THANK YOU to Ilene Lieber of Passion PR Consulting and Lion's Pride for the invite to their Media Tasting Event.
Sincerely,
Angela
Contributor
Instagram: @a_cuteangleeats