15 Best Restaurants You Must Visit in Antigua, Guatemala
Guatemala is close to my heart and runs through my veins. Being half Guatemalan, and traveling there at least once a year, I have had my share of food from all over the country- but nothing compares to the fabulous restaurants found in the historic city of Antigua, Guatemala.
These restaurants not only bring the food and flavor, but also the ambiance- and you know your girl is all about that! No sketchy holes in the wall recommendations here. Prepare to eat some of the best food in Antigua. Here are the best 15 restaurants I recommend you try in Antigua, Guatemala.
1. Los Tres Tiempos

To start off this best restaurant guide to Antigua, Guatemala- I have to say how incredible Los Tres Tiempos is- it really hits all the marks- beautiful ambiance, spectacular views on their rooftop and bar, a cocktail bar below with some of the best drinks I've had, and authentic Guatemalan food, you can't go wrong here. It's an amazing time and they have the cutest places to sit by the window to look out at the city while dining. This is for sure one of my go to places.
Address: 5A Avenida Norte Antigua, Guatemala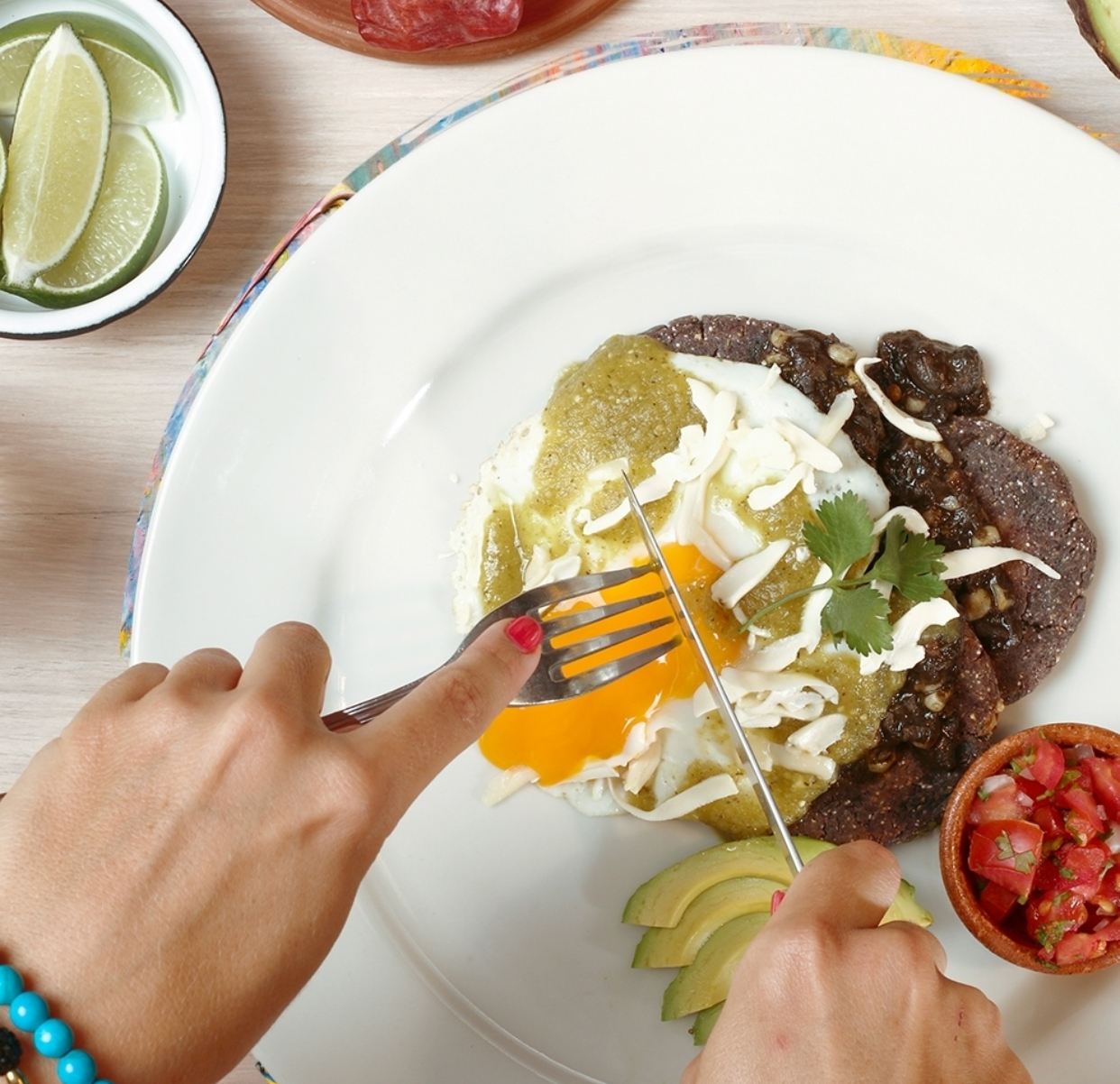 2. Fridas
Fridas is famous in Guatemala, and a perfect spot for beautiful photos and Instagram moments. The walls are full of vibrant colors inspired by the artist Frida. Check them out on Thursdays and Fridays for live music while dining in their restaurant or bar.
Address: 5A Avenida Norte #29 Calle Del Arco Antigua Guatemala
3. El Convento
El Convento is a Boutique hotel in the heart of historic Antigua. The hotel is filled with aspiring architecture with internal gardens - pure magical. If you are craving a Guatemalan brunch, this is the place for you. They offer breakfast, lunch , and a bubbly brunch, serving various wines , fresh juices, authentic Guatemalan breakfasts, which includes eggs, black beans, plantains, chuchito (petit corn tamale with chicken), and farmer's cheese.
Address: 2A Avenida Norte no. 11 Antigua, Guatemala
4. Izakaya
This has to be one of the best Japanese restaurants in the city! You must try their apple dessert and tiradito de carne at this unique restaurant. Every dish tells a story and has their own unique exciting fusion of flavors. The atmosphere is open and minimalistic, with the service being top notch. This is a must add to your list.
Address: 6a. Ave. Norte # 19 A, Antigua 03001, Guatemala
5. Santo Spirito
Known for their delicious homemade menu items and pasta, Santo Spirito is a great place to dine. Try their homemade mozzarella salade and ricotta ravioli. I love their art-filled garden with amazing ambiance.
Address: 5ta Calle Oriente 8B, Antigua, Guatemala
6. Guatelaria
Tucked away near a historic Guatemalan church, this elegant and cozy restaurant is a sight to see. Inside they have a restaurant and a candy store, where you can try authentic Guatemalan candy and typical food from the country. Try some of their candy and cakes, while enjoying Guatemalan food on their patio.
Address: 5th Avenue North 33 A, Antigua 03001, Guatemala
7. Sobremesa
Featured in the New York Times, Sobremesa is the art gallery restaurant of Alexander Ferrar, the Bahamian author, artist, and chef. It strives to offer guests impeccable service and out of this world flavor and top dining experiences. "The fine art gallery and restaurant Sobremesa, and the satellite exotic ice cream shop around the corner, embody this concept." Try their Cognac & Calabaza icecream, made with a scoop of Cognac Ice Cream and caramel with apples.
Address 4ta. Calle Oriente No. 4 Antigua, Guatemala
8. The Whiskey Den
A truly hidden gem and unique find in Antigua is the Whiskey Den. They have a unique lineup of world whiskeys and coffee produced by local farmers. The bar is very charming a ideal to spend a night out in the city. It is a great place to meet people from all over the world along with locals. If you are a fan of live music, great coffee and whiskey, this is the place for you.
Address: 4A Avenida Norte, #4 Antigua, Guatemala
9. Hobitenango
Hobitenango is a hobbit house village above the mountains of Antigua, and is about an hour drive up. The establishment is a hotel, restaurant, and bar. Being up in high altitudes will give you the most spectacular views of all Antigua and the volcanoes surrounding. It is quite the magical place, and I think is definitely worth the drive and once in a life time experience- whether you stay there over night or just for the day. All food is made fresh, serving breakfast, lunch, and dinner. I loved their Hamburguesas a la parrilla and their delicious Guatemalan hot chocolate for the night.
Address: 1a Avenida Norte #36 Colonia Candelaria Antigua Guatemala
10. Cafe Stela
There is a famous award winning boutique in Antigua called Stela 9, started by a woman from Los Angeles designer Jess Bercovici , who moved her life to Guatemala to start her own business in clothing, airbnb, and the newest addition, her café - Café Stela. Her beautiful way of design and incorporating tapestries in her home are brought to life in the café. The café shares an outdoor courtyard with her Stela 9 Airbnb, and serves a delicious Guatemalan brunch - both healthy and yummy.
Address: 1a Avenida Sur (east of Parque Tanque)
11. Cafe Sky
Café Sky in Guatemala really gives you epic rooftop views of the volcano sky lines in Antigua. It is one of the PERFECT spots to catch the sunset while sipping on Guatemalan coffee or hot chocolate. They serve breakfast lunch, and dinner, and are known for their great drinks at the bar.
Address: 1a Avenida sur #15 Antigua, Guatemala
12. Las Palmas
A restaurant that transforms into a night club. The food here is wonderful, with an elegant flair that you might not expect. The menu was created by professional chefs that incorporates a lot of Cuban inspired cuisine. The music includes Caribbean music- Bachata, Merengue, and Salsa to name a few. Who said you cant have it all?
Address: 6ta Av. Norte #14, 4ta. y 5ta Calle La Antigua Guatemala
13. Ta Cool Taco Shop
The tacos here are to die for! This Mexican restaurant is an absolute must visit if you love a unique taco experience. They serve a ton of tacos in a row on a "flight" style. This is a little more on the touristy side, but its a fun place with great Mexican tacos. Plus- it's relatively cheap, so leave full with no wallet regrets.
Address: Ava Norte 4ta Calle Antigua 3ra Antigua, Guatemala
14. Rincon Tipico
Here is the biggest and well known lunch spots in the city. They offer a wide variety of meals- you can see them roasting the meat right in front of your eyes. Here, you can enjoy wood-fired chicken , skirt steak, sausage, and pork to name a few meat options. You have to try their large Guatemalan tortillas with the meat- get them while they're hot!
Address: 3ra av sur No.3 Antigua, Guatemala
15. Hectors Bistro
Feeling fancy huh? Here at Hector's Bistro, you will find French cuisines with a Spanish twist . They serve some of the best fillets that you can pair with their wide variety of wines. Their duck is quite good as well- this restaurant is definitely on the upscale side in Antigua, with white table clothes. Perfect for romantic dinner plans in the evening. They also serve breakfast and lunch.
Address: 1ra. Calle Poniente No. 9A (1,114.33 mi) Antigua Guatemala
So get out there and explore one of the most beautiful Central American countries out there- #discoverguatemala #travelguatemala
Disclosure: majority of photos can be found on the establishments Instagram page. The cover photo and the photo for Los Tres Tiempos are of my own.